Granite and quartz  – what's new?
Three or four years ago, everyone wanted dark granite or quartz worktops – black angola and star galaxy. Then everyone wanted grey. This year, choices have definitely got a lot lighter, more natural and a little more interesting.
Here are some of our thoughts on what might be popular in the year ahead… and what we like.
Dark and interesting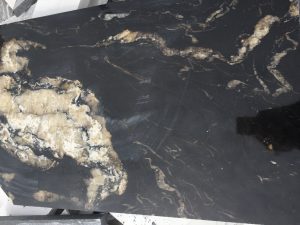 Dark, black granite has always, and will continue to be, a popular choice for worktops. It is practical, goes with almost every colour unit, and looks amazing when polished. We think black will still feature next year but it will become more interesting.
We like: Cosmic black granite is a black granite but has beautiful golden and cream swirls which appear naturally within it. They add a wonderful  texture to the material that is completely natural and unique.
If you decided to go for Cosmic Black, it is worth visiting a stoneyard and looking through all their slabs. We guarantee that each one will be different. Your worktop manufacturer will be able to work with you to make the most of the features of the stone.
Add some texture
Polished surfaces have been the norm for quite some time now. Polishing brings an elegance to the stone, showing off its unique and natural details; it will always have a timeless appeal. Contemporary kitchen design has built on this in recent years and highly polished, smooth and elegant surfaces have been replicated in flooring and in kitchen units. Now, however, with advances in granite surface manufacture, new techniques and finishes are being introduced which are as practical as they are beautiful.
We like: Leathered and honed surfaces instead – one great benefit is that they don't show finger prints and water spots.
Keep it light and natural
Mirror, silver and copper flecks are being replaced with veins, swirls and fossils. The natural elements of stone, that have sometimes been seen rather unfairly as flaws, are being celebrated.
We like: Cambria Swanbridge quartz, Nile Carrara Classico quartz and Classic Quartz Calacatta Gold : Inspired by marble these all have a neutral base but with natural looking veins and swirls running throughout.
Get in touch if we can help.