Black and white is a stylish choice for any kitchen – simple yet dramatic as perfectly demonstrated in this kitchen in Essex.
We recently manufactured and installed the quartz worktops here; Black 20mm quartz worktops, with upstands and matching window ledge, on white high gloss units, and an island fitted with 20mm white quartz on black high gloss units.
This monochrome look is incredibly stylish and never seems to date. The choice, and use, of quartz worktops here really completes the overall finish. Here's why: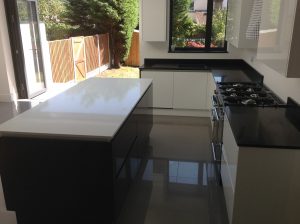 The highly polished quartz, together with the gloss units and floor tiles, really bring the light into the kitchen and help to bounce it around the kitchen;
Most of the worktops we fit are in 30mm thickness but 20mm is increasingly popular, especially in small or constricted spaces. Here the slightly thinner surface is essential to the minimalist feel to the kitchen;
Quartz is incredibly easy to clean, strong, and is highly stain resistant – meaning it will keep that highly polished finish and will not dull;
By choosing quartz, you can guarantee the same consistent finish and look across each surface. The black and white quartz here perfectly match each other in terms of quality and finish.
For advice about your worktop please get in touch.