Granite worktops in the garden
It really has been the perfect BBQ weather recently. Making the most of the weather, and our outside space, has seen us take our workmanship into the garden on a few projects recently.
We worked with an Essex based landscape company to create this amazing outside BBQ and kitchen area. Millstone Designs templated, manufactured and installed the granite worktop, working with the customer to select the right material.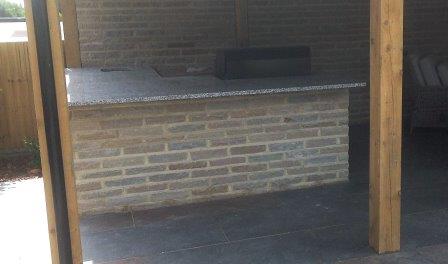 The granite used here is Bianco Sardo – a light grey granite with white, grey and black flecks giving a mottled appearance. It was a large L-shaped worktop with an under-mounted sink and a recessed BBQ. It also had an over-hang on one side to create a bar area. Placed underneath a canopy, this kitchen can be used all year round.
Granite  provides the perfect surface for preparing and cooking outside – no matter what the weather might do (especially when the weather changes just when you have a BBQ planned!). Granite can withstand all that the British summer throws at it, and will still look amazing even after the harshest of winters. Easy to clean, water and heat resistant, it will not stain or degrade like other materials will.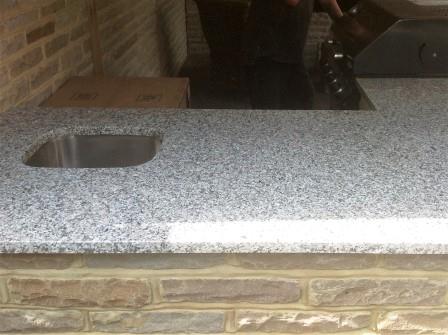 Granite is also a really good way of bringing the inside outside, carrying through your style inside, out into the garden and creating a multi-function space. We are really pleased with the finished look here. We are working on a number of other outside projects but do get in touch if you have something in mind for your garden. Have a look at our board on pinterest for more ideas and inspiration for outside kitchens and BBQ areas.